Waihi Mill Stream Heritage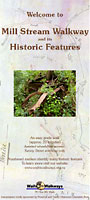 Waihi Walkways have researched the significant mining heritage features present at their Mill Stream Walkway.
They present their valuable research and interpretation at: http://www.waihiwalkways.org.nz/heritage/millstream/introduction.htm
Part of the introduction is presented here, with their blessing. A self-guiding brochure (pdf, 526kb) gives an excellent overview, and allows navigation between the makers on the walkway.