This house was built by the Waihi Gold Mining Company to house the Company's Engineer or Battery Manager in late 1896 or 1897, and features in many of the old photographs.
The earliest photograph of it shows it as a more substantial dwelling than most in Waihi at this time, with two chimneys. It was built close to the battery, separated from it only by the first tailings pond.
A map of Waihi, dated 1899, held by the Waihi Museum, shows the house, with Clark in brackets.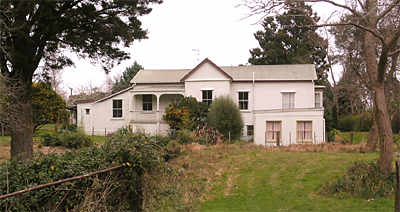 The Cyclopedia of New Zealand [Auckland Provincial District], 1902, under the entry for Waihi mining (pages 504-5), records Mr T.P. Clarke as the engineer of Waihi Battery. Later, under his own heading, the following: "Mr. Thomas Plummer Clarke, Engineer and Battery Manager at the Waihi Gold Mining Company's works, Waihi.
"In 1896, Mr. Clarke was temporarily employed in erecting the large pumping and winding plant at No. 2 shaft on the company's ground, and on the completion of that work he received his present appointment as mechanical engineer and battery manager of the great Waihi Gold Mining Company."
Under the heading of the Waihi Battery the Cyclopedia spells his name as Clark.
T.P. Clarke belonged to the Masonic Lodge (Lodge Waihi, No. 112, N.Z.C) (Cyclopedia). Clarke Street was named to honour him.
It is quite possible that the house was built for Mr Clarke at the time of his appointment as Battery Manager.
The Waihi Mill Insurance map (1908) shows the residence, including the names: Russel, Milligan, and Spratt.
Mr William M Russell was recorded as the Battery Manager for the Union-Waihi Mining Company (appointed January 1900) in the 1902 Cyclopedia of New Zealand (page 507).
McAra mentions R. G. Milligan, as a New Zealand director of the Waihi Gold Mining Co. Ltd, and also R. Spratt, Consultant to the company, though he gives no dates for either. The name Forsman is associated with the house in 1952.
Photographs from Union Hill show a well formed pathway from house to battery, including a raised wooden walkway over the tailings area.
An old road or path to the quarry shows on the 1942 aerial photograph.
The building has been enlarged over the years to meet the needs of its many occupants, though it is not clear when it was relinquished by the Company (possibly 1952).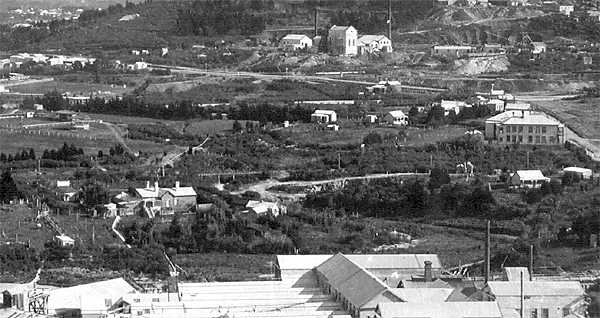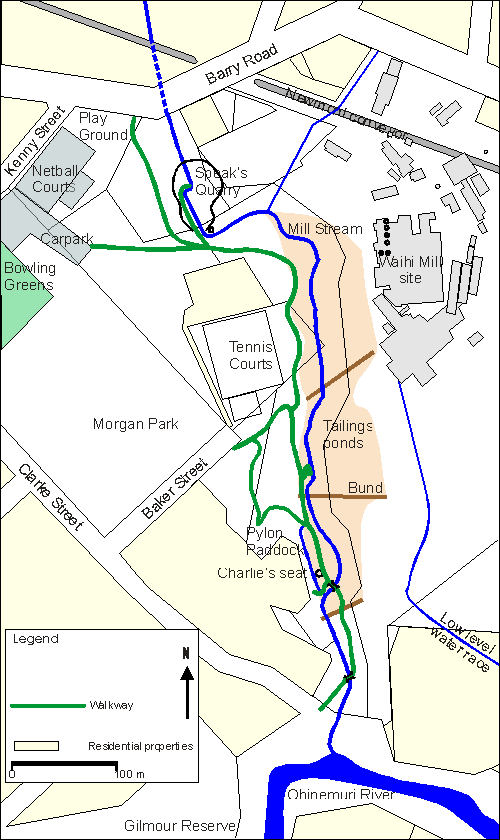 Mill Stream Walkway Heritage Features.
Map showing walkway, present stream alignment, Speak's Quarry, old tailings ponds and the Waihi Battery site. Battery Manager's house is shown on mouse over.